Not sure which gift to buy for your loved one who's still recovering from sickness or for your friend who's going to have a grand business launch? You should try the best gift flowers in Hangzhou!
With a gift basket, you can choose which rose,lilies or other flowers to include, making it a more useful and thoughtful present. If you don't know where to start looking for the best gift flowers in Hangzhou, take a look at our list below.
1.ALWAYS AFFECTIONATE(19 red roses)
Materials: 19 boutique red roses, with the right amount of lover grass, Southern bamboo decoration.
Flower Language: Love to the depths, burning fire in the heart.
Suitable:Lover丨Girl friend
Price: $66
2.AFFECTIONATE TIME(8 white roses)
Materials: 8 white roses and 3 Diana roses, with Baby's breath, gypsophila, green leaves and lover grass.
Flower Language: I would like to be your agent, only you would like to be my princess!
Price: $53
3.SUNSHINE LOVE(33 Champagne roses)
Materials: 33 champagne roses, white baby's breath borders

Flower Language: You are the North Star of my life. With you, I will never lose my way on the vast ocean again.
Suitable:Lover丨Girl friend
Price: $84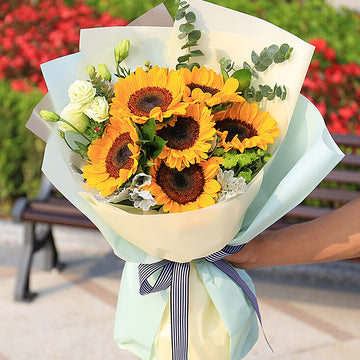 Materials: 6 sunflowers, 2 white eustoma, 3 green daisies, eucalyptus leaves, silverleaf chrysanthemums, gardenia leaves interspersed
Flower Language: I love the warm sunshine, the intoxicating scent of flowers, and your company.
Suitable:Lover丨 Friend丨Elders
Price: $71
5.BEST GIFT(11 fine champagne roses)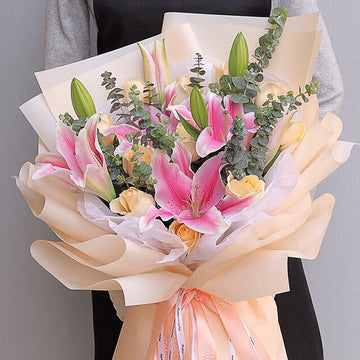 Materials: 12 pink lilies, 1 head of white lilies, 3 sprigs of green eustoma, lover's lily
Flower Language: Cut the wind for the belt, cut the clouds for the clothes, embellish the beautiful glory, a gorgeous dress, a lifetime of love.
Suitable:Elders丨Friend丨Customer
Price: $66



And that's our list for the best gift flowers in Hangzhou! Have you already decided which one you'd like to buy? Tell us all about it!