Since time immemorial, flowers have been used to convey feelings and relay messages of joy, love, gratitude—even consolation. With all the varieties and arrangements currently available, there has got to be a particular bouquet that best suits your situation. In China, gardens are teeming with vibrant greenery and color. Why don't you share your feelings with your loved ones with these gifts from nature? Here is a list of recommended flowers in Chongqing.
1.HAPPY START(33 stems of Diana pink rose)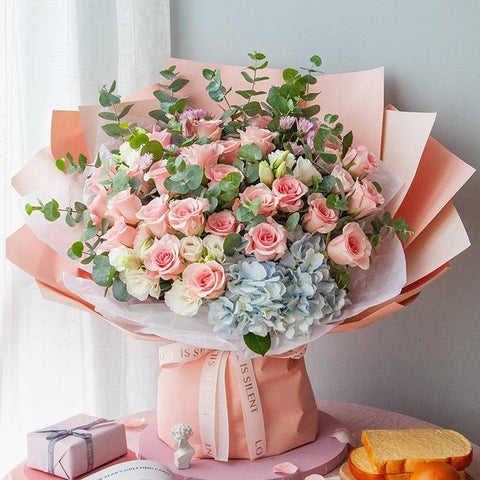 Materials: 33 Diana Pink Roses, 5 White Eustoma, 2 Pink Eustoma, 3 Pink Chrysanthemums, 1 Light Blue Hydrangea, 10 Eucalyptus
Flower Language: You know, missing you is like seawater slowly seeping into every inch of my heart, and it's about to burst its banks.
Suitable:Lover丨Girl friend
Price: $112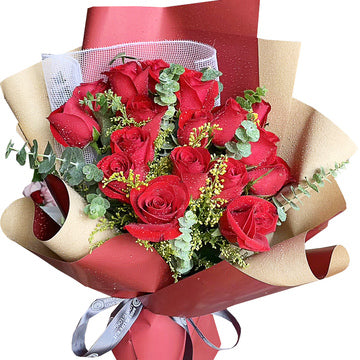 Materials: 19 red roses, yellow warbler + eucalyptus plump interspersed
Flower Language: The sun is warm, the years are peaceful, if you don't come, how can I dare to grow old?
Suitable:Lover丨Girl friend
Price: $66
3.LOVE YOU FOREVER(15 pink carnations)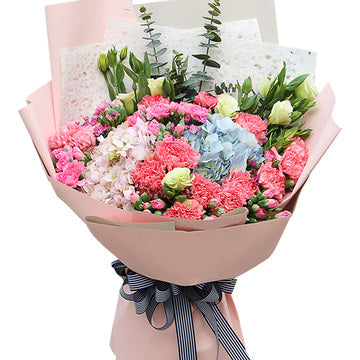 Materials: 15 pink carnations, half blue hydrangea, half pink hydrangea, rosy carnations (or pink Dianthus) plump, green eustoma to taste, eucalyptus garnish
Flower Language:  With a heart to love happiness will never be broken, with the truth to give you sweet absolute, even if the romantic words will eventually run out of words, I will also insist on giving you the deepest touched!
Suitable:Elders丨Teacher
Price: $74
4.THE MOST BEAUTIFUL YOU(11 red roses)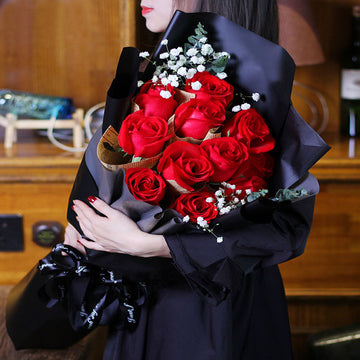 Materials:  11 red roses, white starbursts, eucalyptus embellishments
Flower Language: In my eyes, you are so enchantingly beautiful, so irreplaceable!
Suitable:Lover丨Friends
Price: $74
5.MY HEART(6 red roses 5 white roses 5 Diana)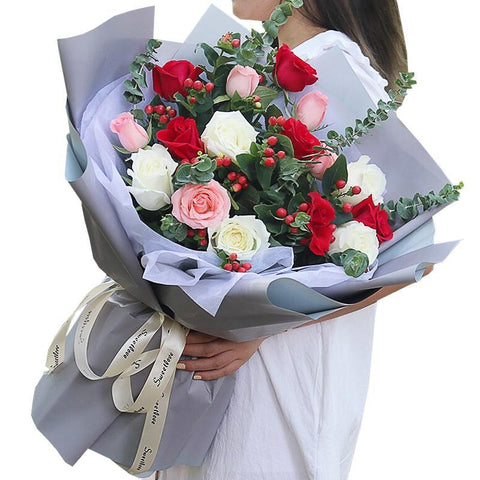 Materials: 6 red roses, 5 white roses, 5 Diana roses, eucalyptus plump interspersed 
Flower Language:

 

"A green dickey is always on my mind". Even if I don't go, won't Tzu Ning come? One day without seeing you is like March!
Suitable:Lover丨Friends
Price: $63.86
And that's it for our list of the best gift flowers in Chongqing City! Have you already decided which one you'd like to buy? Tell us all about it!